Needle Felt Filter Bag Profile
Needle felt filter bags are the most economical disposable bag filter material available.
These filter bags provide depth filtration and surfaces free of fiber migration while utilizing hot melt seamless welding technology to ensure effective filtration and no-bypassing.
Needle felt filter bags are best suited for low and medium viscosity liquids and are available in a wide range of micron ratings and two different materials of construction (polypropylene and polyester).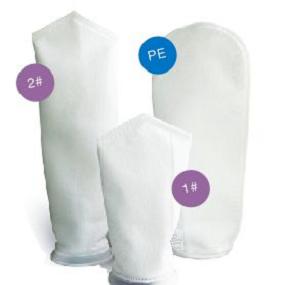 Characteristics
Tight-knit structure, eliminates fiber migration from the surface
Hot melt seamless welding technology ensures no by-pass
Applicable to low and medium viscosity liquids, at high flow-rates
Standard ring is polypropylene
| | Filter area (Ft2) | Diameter (In) | Length (In) |
| --- | --- | --- | --- |
| No.2 | 4.4 | 7 | 32 |
Chemical Resistance Chart
| | | | | | | |
| --- | --- | --- | --- | --- | --- | --- |
| PO | S.Acid | W. Acid | W.Alkali | S.Alkali | Solvent | <80 C° |
| PE | S.Acid | W. Acid | W.Alkali | S.Alkali | Solvent | <170 C° |
| | | | | | | | | | | | |
| --- | --- | --- | --- | --- | --- | --- | --- | --- | --- | --- | --- |
| Filter rating (um) | 001 | 005 | 010 | 025 | 050 | 080 | 100 | 125 | 150 | 175 | 200 |
| PO | X | • | • | • | • | X | • | X | X | X | X |
| PE | • | • | • | • | • | X | • | X | X | X | X |