Oil Absorption Filter Bag Profile
These high-efficiency oil absorbing filter bags are made of melt-blown polypropylene fiber.
They have a large oil-absorbing surface area and excellent oil absorption capability and are acid-proof, alkaline-proof, plus stretch resistant.
High-efficiency oil absorption filters are typically used to remove oil and other impurities from water or wastewater in industrial applications.
These filter bags have multiple layers, which gives them over 90% removal efficiency and significantly increases holding capacity.

Oil Absorbing Filter Bag Characteristics
Pure polypropylene raw materials ensure high oil absorption efficiency.
Multi-layer depth filtration increases particle removal efficiency and holding capacity.
Over 90% filtration efficiency at the specified micron rating.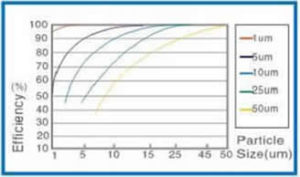 | | Filter area (Ft2) | Diameter (In) | Length (In) |
| --- | --- | --- | --- |
| No.2 | 4.4 | 7 | 32 |
Chemical Resistance Chart
| | | | | | | |
| --- | --- | --- | --- | --- | --- | --- |
| OAS | S.Acid | W. Acid | W.Alkali | S.Alkali | Solvent | <80 C° |
| | | | | | | | | | | | |
| --- | --- | --- | --- | --- | --- | --- | --- | --- | --- | --- | --- |
| Filter rating (um) | 001 | 005 | 010 | 025 | 050 | 080 | 100 | 125 | 150 | 175 | 200 |
| OAS | X | X | X | • | X | X | X | X | X | X | X |